Program of the Day
// 28.7.19
AKRAM KHAN COMPANYE



UNTIL THE LIONS
27 & 28.07.2018
Kalamata Dance Megaron - Main Stage | 22:00 | 60΄
What defines gender? What makes us male or female? Is it the body? Could it be deeper, unnamed impulses that drive desire or expression? Or is it an identity bracelet society hands out? How permanent and unchanging do these labels remain? And what part does Time, master sorcerer, play in our perceptions?
Keenly aware of the complex demands of the body across time, of the transition from power to endurance, Akram Khan turns his gaze on these questions through the prism of one of his best-loved epics, the Mahabharata.
Until the Lions* revisits the great epic, but through the eyes of a compelling female character, Amba, who questions the definitions of manhood and womanhood, and challenges Time. Princess Amba is abducted on her wedding day by Bheeshma and offered as bride to his brother. Though she regains her liberty, Amba's life is destroyed: she is rejected by her family, her betrothed, later by her abductor, and all of society. Amba then invokes the gods.
Until the Lions looks at what happens when society's rules for each gender destroy rather than protect. What does a woman do when she loses ownership of her body? To what lengths can she go to regain control over her life, to gain justice? When the quest for justice swerves towards revenge, what price would the body have to pay? And what price would humanity have to pay?
*A partial adaptation of the book Until the Lions: Echoes from the Mahabharata by Karthika Naïr.
--
Artistic Director-Choreographer: Akram Khan
Narrative Concept-Scenario-Text: Karthika Naïr

Visual Design: Tim Yip

Lighting Design: Michael Hulls

Original Music Score: Vincenzo Lamagna in collaboration with Sohini Alam, David Azurza, Yaron Engler, Akram Khan, Joy Alpuerto Ritter
Dramaturg: Ruth Little

Assistant Director: Sasha Milavic Davies
Assistant Choreographer: Jose Agudo
Voice-over: Kathryn Hunter
Dancers: Ching-Ying Chien, Joy Alpuerto Ritter, Rianto

Musicians: Sohini Alam,
 Joseph Ashwin, David Azurza, Yaron Engler
Producer: Farooq Chaudhry

Technical Director: Richard Fagan

Technical Coordinator: Peter Swikker
Stage Manager: Lara Davidson
Lighting Technician: Zak Macro
Sound Technician: Phil Wood
Technician: Sam Holland
Assistant to the Costume Designer-Costume Maker: Peggy Housset
Model head designed and made by Blind Summit

Project/Tour Manager: Mashitah Omar

Production Manager: Florian Stagliano
Tour Assistant: Mai Saroh Tassinari
This production is a partial adaptation of Until the Lions: Echoes from the Mahabharata, a retelling in verse of the Mahabharata by Karthika Naïr (Harper Collins India, 2015 & Arc Publications UK, 2016).
Production initiated by The 360° Project. International Network of Round Arts Venues.
Produced during residency at Sadler's Wells London and Curve Leicester.
Co-production: Roundhouse/Sadler's Wells London, MC2: Grenoble, La Comète Châlons-en-Champagne, Théâtre de la Ville/La Villette Paris, Danse Danse/TOHU Montréal, Les Théâtres de la Ville de Luxembourg, New Vision Arts Festival Hong Kong, Taipei Performing Arts Center, Movimentos Festwochen der Autostadt in Wolfsburg, Brighton Festival 2016, Maison de la Culture d'Amiens, Concertgebouw Brugge, Manège, scène nationale – Reims, Holland Festival Amsterdam, Romaeuropa Festival, Curve Leicester
Sponsored by COLAS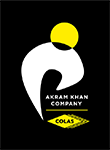 With generous support from Quercus Trust

Supported by Arts Council England



Akram Khan is an Associate Artist of Sadler's Wells London and Curve Leicester.
The performance Until the Lions is presented at 25th Kalamata International Dance Festival with the support of the British Council.
--
Akram Khan is one of the most celebrated dance artists today, building his reputation on the success of imaginative and relevant productions, such as Kaash, iTMOi (in the mind of igor), DESH, Vertical Road, Gnosis, and zero degrees. His work is recognized as being profoundly moving, and his intelligently crafted storytelling as effortlessly intimate and epic. Khan was described by the Financial Times as an artist "who speaks tremendously of tremendous things".
As an instinctive and natural collaborator, Khan has been a magnet to world-class artists from other cultures and disciplines such as the National Ballet of China, actress Juliette Binoche, ballerina Sylvie Guillem, choreographers/dancers Sidi Larbi Cherkaoui and Israel Galván, singer Kylie Minogue, visual artists Anish Kapoor, Antony Gormley and Tim Yip, writer Hanif Kureishi and composers Steve Reich, Nitin Sawhney, Jocelyn Pook and Ben Frost. During his close collaboration with the English National Ballet and its Artistic Director Tamara Rojo, Khan created the short piece Dust and his own critically acclaimed version of the iconic romantic ballet Giselle. A highlight of Khan's career was the creation of a section of the London 2012 Olympic Games Opening Ceremony, which was received with unanimous acclaim.
Khan has been the recipient of numerous awards throughout his career including the Laurence Olivier Award, the Bessie Award (New York Dance and Performance Award), the prestigious ISPA (International Society for the Performing Arts) Distinguished Artist Award, the Fred and Adele Astaire Award, the Herald Archangel Award at the Edinburgh International Festival, the South Bank Sky Arts Award, and six Critics' Circle National Dance Awards. Khan was awarded an MBE for services to dance in 2005.
Khan is an Associate Artist of Sadler's Wells, London and Curve, Leicester.
CIE LE NEIL – LINK BERTHOMIEUX



VENDETTA
28.07.2019
Kalamata Dance Megaron - Studio | 19:30 | 40΄
Link Berthomieux performs in Greece for the first time.
"Man in the inexorable echo of his wounds. He might think he's himself, through all his mental sets.
Man knows how to love you know, I swear. But he also knows how to survive with the same strength. In the end, he's simply doing his best.
He's been the same from the beginning, don't you see? The same kid, he hasn't changed. What you don't know is that unlike children, men feel fear in their realm of vulnerability.
As a man, this is my path."
--
Choreographer: Link Berthomieux
Composer: Linky Larson
Lighting: Laurent Berthomieux
Created during the artist's residency at La Manufacture – Aurillac
With the support of:
--
Trained at the Centre Chorégraphique La Manufacture (Aurillac), Link Berthomieux developed through his contact with different styles of dance, from contemporary to hip hop and from classical to jazz. To his multidisciplinary training he owes his excellent technique and mastery of the qualities of movement. As a choreographer, Berthomieux has developed a very personal style, particularly in relation to the ground. A member of Vendetta Mathea & Co and co-founder of the group Supreme Legacy, Berthomieux has toured extensively in Germany, China, Scotland, Spain, the United States, Finland, France, and Tunisia. He has also participated in numerous hip hop battles and meetings in France and beyond. He also took part in the creation of Rock It All by Yaman Okur, Brahim Zaibat, and Hafid Sour, and in its tour through France and Belgium. As a contemporary dance teacher, Berthomieux teaches and directs professional workshops for the Centre La Manufacture and contemporary dance master classes, mostly in Paris.
LES VIKINGS CIE

L'AVEUGLEMENT
27.7.2019 | Kalamata Central Square | 21:00
28.7.2019 | Costa Navarino | 20:00
Les Vikings Cie perform in Greece for the first time with L'Aveuglement, a play inspired by José Saramago's novel Blindness. A lonely man is walking. He was blinded for no reason a few days earlier. A blindness that disrupts and isolates him, dictates his acts, and manipulates him. He realizes that he has to live with it, understand it, and even like it. This is the beginning of a long journey during which he will learn how to transform a disability into a 'dance of life'.

Concept-Dancers: Sara Olmo & Victor Launay
Music: Putos a Roubar maças (Dead Combo) & Green Grass (Tom Waits)
---
Les Vikings Cie was created by Sara Olmo and Victor Launay with the duo Étreinte, in Brussels in 2014. In 2014, the company won two second prizes at the Les Synodales (Sens) and Certamen International de Coreografía Burgos – New York choreography competitions. The following year, L'Aveuglement was presented and awarded first prize at Certamen International de Coreografía Burgos – New York and the special prize of the city of Biarritz at Les Synodales. The company's members also collaborate as choreographers and teachers with many establishments around Europe.
---
As part of the Festival's collaboration with the Captain Vassilis and Carmen Konstantakopoulos Foundation, which aims to promote Messenia's cultural heritage and contemporary cultural creation to international visitors, the 25th Kalamata International Dance Festival's outdoor performances, held in the city's central square from 20 to 27 July, will be broadcasted the following day at Costa Navarino, where Les Vikings Cie will repeat L'Aveuglement, but also exclusively perform Étreinte, on 28 July.
LES VIKINGS CIE
ETREINTE
28.7.2019 | 20:00 | COSTA NAVARINO

Embracing, caressing, besieging, captivating, abducting, imprisoning, oppressing, torturing, smothering— through such contradictions emerges a picture of tenderness, passionate love, violence, cruelty. The performance is inspired by Federico García Lorca's Mariana Pineda, a play on the nineteenth-century Spanish liberalist heroine and her executioner. It explores the latter's fascination for the woman he is to kill and the victim's choice to resist, like Antigone, remaining loyal to her beliefs, while seeking a dignified death.
Music:
Juan Gomez, Arena
Silvia Pérez Cruz & Ravid Goldschmidt, Luna
Silvia Pérez Cruz, Blancanieves (Saeta)
PHOTO EXHIBITION
Kalamata Photography Association Bodies in the Light
19 → 28.7.2019
Kalamata Dance Megaron - Studio Lobby | 19:00-22:00
Photography meets dance. Every 'click' captures that magic moment in which the body discovers new ways to express itself, to move and be moved, while the photograph becomes a body dancing in the light.
Founded in January 2017 and coordinated by Nikos Iliopoulos, the Kalamata Photography Association nurtures the practice of and artistic expression through the art of photography. Since its establishment, the group has collaborated with various institutions in Messenia as well as with groups, associations, and photography clubs across Greece.
LALI AYGUADÉ
From lightness to gravity
24 → 28.7.2019
Kalamata Municipal Stadium
Lali Ayguadé is a Catalan performer and choreographer. The core of her workshop is the study of transformation through physicality. The workshop comprises two main parts: a technical one, with warm-up and sequences to prepare the dancers for the class challenges, and a second part, with a focus on improvisation based on specific tasks. The objective of the workshop is that the participants learn to use the floor emphasizing their work on the feet, strengthening in this way their base and support for movement. Participants will also train to control their weight center and they will explore ways to find freedom in their movement through phrases and improvisations. Rhythm and voice will also be studied in terms of investigating a theatrical physicality.
Lali Ayguadé, was a full time member of Akram Khan Company for several productions and she has also collaborated, among other renowned creators, with Hofesh Shechter, Roberto Olivan, Marcos Morau and Baró d'Evel. Since 2013, she is the director of her company, with which she has presented "Kokoro" and "iU an Mi", pieces standing between reality and imagination, merging theatricality with dance. She has also created "Incognito", which inspired part of the "Timecode" short film, winner of Palma d'Or in Cannes in 2016, Goya and Gaudí awards in 2017 among others. Moreover, she has directed pieces for other companies such as Tanz Bielefeld and Bhodi Project.
The workshop From lightness to gravity by Lali Ayguadé takes place at 25th Kalamata International Dance Festival with the support of Acción Cultural Española (AC/E) through the Programme for the Internationalisation of Spanish Culture (PICE), in the framework of the Mobility grants.
DANCING OUR WAY
Live and Alive on Stage
23 → 28.7.2019 & performance 28.7.2019 | 18:30
"Thodoros Angelopoulos" Amphitheatre
Project Director: Sofia F. Droumpali
Lecturers: Dr. Marο Galani, Anastasia Nikolitsa, Sofia F. Droumpali
Following last year's successful Dancing My Way project, this year's Dancing Our Way project invites and challenges dancers, educators, and therapists to attend and experience the unique ability of movement and dance to promote inclusivity and create community and relationships between disabled and non-disabled people. The project will include one day of open experiential/educational seminars and four days of closed workshops culminating in an interactive live event on stage. The project is conducted by PHARIS (Kalamata Dance Festival – Kalamata Municipal Dance School) in collaboration with the Centre for Physical Medicine and Rehabilitation of Kalamata.
Dr. Maro Galani
Primitive expression
Awakening of body memory and pleasure of physical existence in the dance therapeutic context for people with disabilities and their family, caretakers, special needs educators, and dancers.
23.07.2019: 9.30 - 11.00 & 17.00 - 18.30
Anastasia Nikolitsa
The caregiver's body: perception, understanding, and coping with what is not said
Contact between the caregiver and person with disability inevitably stirs and brings out vulnerable parts in both parties. We will understand and discover new ways of coping, to prevent burnout.
23.07.2019: 11.30 - 13.00 & 19.00- 20.30
Cost of two seminars 10 euro
Sofia Droumpali
Live and Alive on Stage
A live improvisation and interactive event on stage, in which the audience will be part of the communication and emotional interconnection between disabled and non-disabled people through movement and dance. A photographic exhibition, creative responses, and live reflections from the audience will guide the experience.
28.07.2019:18.30, Free entrance
Maro Galani, PhD
Maro Galani is a choreographer, dance therapist, and adjunct lecturer at the University of Patras, where she teaches Rhythmic, Dance and Theatrical Game. Her PhD dissertation, titled Rhythmical and Theatrical Game for Children with Special Needs, was carried out at the National Academy of Sports and National Academy of Theater and Film Arts in Sofia, Bulgaria. She holds a MSc in Creative Writing from the University of Western Macedonia and a post-graduate certificate in Primitive Expression. She has served as a dance expert for the Hellenic Ministry of Education.
Anastasia Nikolitsa
Anastasia Nikolitsa studied dance, dance movement psychotherapy (Laban Centre, City University of London), character-analysis, vegetotherapy (Hellenic Institute of Vegetotherapy and Character Analysis, Athens), and traumatherapy CRM (Institute of Traumatherapy, Athens). She has taught in universities (London) and vocational schools (Athens). Since 2003, she has been working in Athens with adults with psychosomatic symptoms, autoimmune diseases, personality disorders, PTSD, and Complex Trauma. Her books The power of the unprotected child and Dance Movement Psychotherapy: history, theory, methodology, tools were published in 2018.
Sofia F. Droumpali
Sofia Droumpali studied contemporary dance and ballet (pre-professional) at PHARIS in her hometown Kalamata and trained as a professional dancer (Rallou Manou/Hellenic Ministry of Culture and Sports), teacher (University of Patras), and dance movement psychotherapist (MA, Goldsmiths University of London). She currently practices Dance Movement Psychotherapy with young people and children with autism, complex needs, and trauma in London. Since 2017, Sofia has directed dance projects about inclusion for people with disabilities in collaboration with PHARIS (Kalamata, Greece).